Southern New Hampshire University recently published an article entitled "All in the Family". The article features interviews with John, Donald and John Jr, all of whom are alumni of SNHU.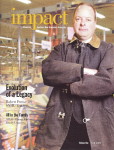 All in the Family ~ Family businesses thrive with SNHU alumni at the top.
John Cote '69, Don Cote '74 and John Jr. '93 have made moving a family tradition for three generations. The Cote family has built on a tradition started in 1945 at Louis P. Cote, Inc, a company specializing in rigging, trucking, crating, machinery moving and Millwrighting. In addition to the family business, the Cotes have made Southern New Hampshire University part of their legacy.
Evolution and Opportunity
John Cote and Don Cote, Louis' sons, attended in the university's early days on Hanover Street. Destined for careers in the family business, the brothers made their educational choices – business and finance – based on the roles they'd serve in the company. John is now president and Don is vice president. The brothers explained that as children they would hang around the shop with their dad, so becoming part of the family business was a natural evolution.
John Jr. '93, much like his father and uncle, had been exposed to the family business at a young age. After graduating from SNHU, he spread his wings and took a job in New Jersey. One year later he returned to the family business.
As a third generation Cote, John Jr. is the project manager and is looking to expand the business into Canada and Greece. Seeking new ideas, such as the installation at Dollywood in Tennessee, is part of his long-range plan. "Recognizing a need and consistently growing to fill the need has been our approach" he said.
Making It Work
With a total of seven members of the Cote family involved in the business, there are challenges, but the dynamic always remains positive, John Sr. said. "Communication is the key to success," he said. The Cotes established a chain of authority early on to help avoid any confusion with roles. "You must be willing to do anything you would ask anyone else to do," explained Don
"It's been great to be able to work with the family, but also with two individuals that share the same passion for the service we provide. The reward is sharing the successes with the family" John Jr said.
[singlepic id=305 w=200 h=200 mode=web20 float=right]
What's Next?

John Sr. is comfortable with his son taking over, stating that the "natural succession" is built in. He will be backing off soon but will never retire. "He'll retire once he can figure how to link his laptop or Blackberry with an office security camera system," John Jr. said. Article by Stephanie Bergeron Republished with permission