A Rigging Job Turned Into a Rescue Job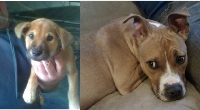 A couple months ago a job in Monroe, Louisiana took an unexpected turn for two members of our crew while rigging machinery at a job site. While brothers Brett & Tony Ervin were loading a truck the driver's wife Pat took their dog for a walk. The dog became very interested in a drain nearby. During break Brett went over to see what had gotten the dog's attention. While looking into the drain he heard barking coming from down in the drain. From another end of the narrow drain pipe Brett was able to see a dog's ear flopping. Brett informed his brother Tony who was also the job foreman about the discovery and was told that after the machinery loading was complete they would see what they could do for the puppy. When the job was done Brett, Tony, the truck driver Brian & his wife Pat went to work rescuing the trapped puppy. After using a forklift to lift the top of the drain off, they found a long pipe which they used to push the puppy out from the drain pipe to a spot where they could reach it. The pup was in rough shape, weighing only about 5 ½ pounds it was suffering from malnourishment and it was dehydrated. Brett wasted no time claiming the pup, but having flown to Louisiana they had no documentation to fly the pup home. Once again the trucker Brian and his wife Pat stepped up and gave the pup a ride from Louisiana to his new home in New Hampshire.
It turns out that the pup, now named Louie Monroe for where it was found, is a southern breed of hunting dog known as a Black-mouth Cur used for hunting boars & bears. After a shaky start in life and a lot of miles Louie now weighs in at a little over 30 lbs and still growing in his new home with Brett and his family. And I believe Brett would agree that since Louie Monroe arrived there hasn't been a single wild boar or bear spotted at his house. Good dog.
Just Another Day…and Another Dog
Even more recently the same brothers, Brett & Tony, who rescued the pup in Louisiana, pulled into a truck stop on 495. Brett was walking near a fence that bordered the rest area when a dog's head poked through a small hole in the board fence. Brett quickly surveyed the situation. There was a narrow strip of wooded area on the side of the rest area that was surrounded by fence with no gate, no entry at all & no hole large enough for this pup to have gotten in on its own. It became apparent that the pup had been tossed into the fenced in area and abandoned. Brett found his brother Tony and said "You're not going to believe this but…" The hole where the head had poked out was enlarged enough to pull the young pup out. Then it also became plain to see that the dog had been neglected and abused which also meant Tony & Brett had a passenger. Brett took care of this pup too until a good home could be found and it didn't take too long. Co-worker Phil Cote adopted the pup & named him Mack. Phil says the dog has quickly developed a great personality & has become a very happy addition to his home.