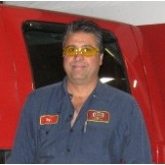 In today's world remaining at the same job & with the same company for 16 years is pretty remarkable. But our senior foreman, Dan Spenard, has done that and more. He worked here for 6 years in the '80's, left, then came back in '93 and has been here ever since for a total of 22 years. Now that's impressive.
I caught up with Dan recently to ask him some questions about his time here and his life on & off the job. Some serious questions….and some not so serious.
What are some of the biggest challenges you face on the job & how do you deal with them? Dan: Overseeing complete plant moves & laying over large presses.
What was one of your most rewarding or proudest moments since you joined the company? Dan: It was at (a manufacturing facility) in Haverhill, MA. The project involved some very heavy lifts (40,000 lb vessel and other associated equipment) in very tight quarters.
Where were you born & raised? Dan: Here in Manchester
Are you married? Do you have kids? What do you enjoy doing with your family? Dan: Yes. 2. Vacations at the beach, the White Mountains & spending time at the family place on Baboosic Lake.
As a kid who was your favorite Superhero? Dan: Batman
What's your favorite part of the job? Dan: Completing a job safely
What do you like to do when you're not working? Dan: Motorcycle rides
What was in your grade school lunch box? Dan: Devil Dogs
If you weren't a rigger what would you like to be? Dan: A cook
And now you know foreman Dan Spenard a little better.
~ Interview by Mike Cote