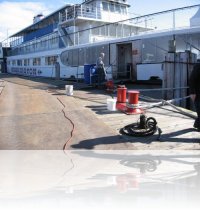 When Lake Winnipesaukee's MS Mt Washington cruise ship was to have its engines replaced, L P Cote, Inc. got the call. The ship began its life as a steamship, the SS Chateaugay, on Lake Champlain in 1888. It was brought to New Hampshire in 1940 and renamed the SS Mt Washington". Six years later, in 1946, two 615 HP engines were installed and it went from SS (Steam Ship) to MS (Motor Ship). These engines added a total of 30 tons to the weight of the ship.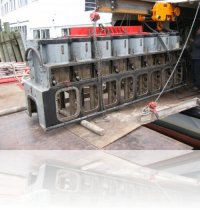 Fast forward 64 years and those two massive engines that provided the heartbeat of the ship on thousands of voyages were becoming harder to service and to find parts for and were not necessarily eco-friendly. New, more efficient and "greener" Caterpillar C-32 marine diesels were selected to replace the aging engines. A 12 foot hole was cut in one side of the ship to allow for the old engines' removal and replacement. Counterweights were added to the opposite side of the ship to compensate for weight shifts during the move and an overhead hoist system was erected inside the hull to move the old & new engines. The new engines weigh in at approximately 9000 pounds each making the total engine weight about 12 tons lighter than before.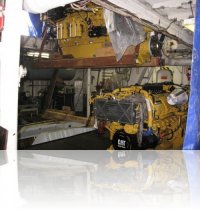 Dealing with a 122 year old ship posed a host of rather unique issues to face. With proper planning, the project went off smoothly and the ship has been refitted with new engines to provide many more generations with memories of Lake Winnipesaukee and New Hampshire's iconic MS Mt Washington cruise ship. Louis P Cote is proud of its role in revitalizing a piece of NH history.